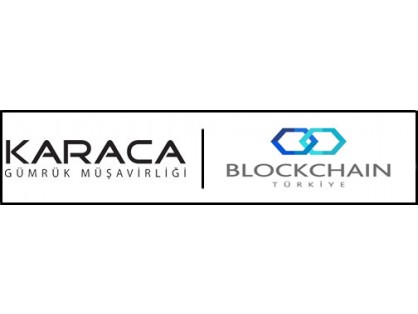 KARACA CUSTOMS CONSULTANCY BECOME A GOLDEN MEMBER OF BLOCKCHAIN ​​TURKEY PLATFORM.
Karaca Customs Consultancy, within the scope of the digital change and transformation process that has also been supported by the Ministry of Trade, became a gold member of the Blockchain Turkey Platform ( BCTR).
It is thought that Blockchain technology which has an increasing use in many countries and different sectors around the world will affect the whole world in the coming years and transform the world technologically. It is also thought that this technology will enable paperless trade era, accelerate the digitalization of supply chains, increase efficiency and shorten transaction times while also preventing mistakes arising from fraud or errors.
Karaca Customs Colsultancy by taking part in BCTR (Blockchain Turkey Platform) aims to closely follow the developments in Blockchain technology, aims to be one of the leading organizations in the execution of foreign trade transactions on blockchain-based platforms. Besides all this Karaca Customs consultancy aims to save time and cost in the performance of its activities, accelerateing operational processes, aims to get rid of the paperwork procedure, aims to prevent false statements by controlling all data on the chain. Karaca customs consultancy aims to ensure that processes are carried out through smart contracts and thus to increase efficiency in all processes.
Among the members of the Blockchain Turkey Platform, there are nearly 70 leading companies from various sectors such as Eczacıbaşı, Turkish Airlines, Pegasus, Turkcell, Koç Sistem, Deloitte, Microsoft, IBM, Garanti, Vakıfbank, Türkiye İş Bankası, Ford Otosan, EnerjiSa.The executive and advisory board of the Blockchain Turkey Platform consists of the founders, senior managers and/or representatives of Turkey's most important organizations and experts in their fields.
Click for Blockchain Turkey Platform members.