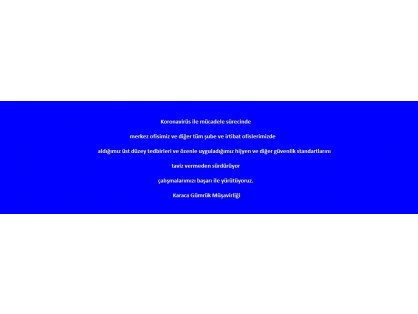 In the process of combating Covid-19, Karaca continues to offer its services successfully.
Karaca Customs Consultancy which maintains its hygiene and other safety standards without compromising in the process of combating Covid-19 continues to provide its services to its valuable customers successfully as always.
In order to be protected against the Covid-19 disease that emerged in Wuhan, China in December and affected the whole world and to support the social struggle in this context, Karaca Customs Consultancy closely followed the process and took all the necessary measures quickly and implemented it.
At the very beginning of the pandemic process, Karaca Customs Consultancy, which has made the current working order in the head office and all other branches and liaison offices in accordance with the necessary working order in order to provide more accurate, faster and more holistic service to its valued customers, has been continuing to provide its services successfully as always by maintaining the high-level measures it takes and the hygiene and other safety standards that it carefully implements, without compromising.
We wish healthy and successful days to our valued customers, our employees and all parties we cooperate with.
Best Regards,
Karaca Customs Consultancy